AFE 54-32322 PRO 5R STAGE 2 MAGNUM FORCE INTAKE SYSTEM
AFE54-32322
Regular price
$336.00
Save $-336.00
---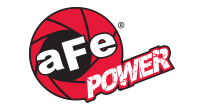 The AFE 54-32322 Pro 5R Stage 2 Magnum Force Intake System for your 2011-2016 GM 6.6L Duramax LML has resulted in 30 max horsepower, 50 lbs. x ft. torque and out-flowed the factory intake by 48%! This system intake tube incorporates an additional sensor pad for the factory humidity sensor found in the 2013-2016 Silverado HD/Sierra HD models. This system, a durable 18-gauge, powder-coated heat shield and features a washable/reusable conical Pro 5R air filter for maximum flow.
The Pro 5R air filter uses five layers of progressively finer mesh cotton gauze oiled media to provide maximum airflow for best performance results. This intake system also features a heat-insulating roto-molded plastic tube that replaces the stock intake tract and directs increased airflow with improved volumetric efficiency for maximum performance. This is a direct bolt-on kit that requires no cutting or drilling on OEM parts.
One-Piece Filter Heat Shield:
The air filter is housed in a one-piece, black powder-coated 18-gauge heat shield that minimizes warm engine air for maximum performance. The heat shield attaches to the lower half of the factory airbox to provide direct airflow to the filter.
This system uses a C.A.D designed, dyno-tuned, roto-molded intake tube that achieves maximum airflow while maintaining a perfect fit. A sensor pad block-off plate is included to maintain fitment on early 2011-2012 Silverado HD/Sierra HD models.
Large 7"x10" Oval Inverted Top Filter:
This intake utilizes a large 7"x10" oval base filter oval inverted top. A 5-1/2" diameter opening provides for maximum airflow. This 5-layer progressively finer mesh cotton gauze oiled media air filter provides maximum airflow for increased horsepower and torque.
Hassle-Free Installation:
aFe has developed this intake to provide a hassle-free installation that utilizes all factory mounting locations, minimizing the use of unnecessary hardware.
FEATURES:
Increased HP & TQ 

Pro 5R Filter Media

Washable & Reusable Filter

CARB E.O. Number D-550-18
CA Residents: CARB E.O. Number on file - LEGAL for use in California.