EDELBROCK 79119 PERFORMANCE CYLINDER HEAD
ED79119
Regular price
$2,162.50
Save $-2,162.50
---
DESCRIPTION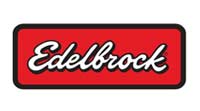 The Edelbrock 79119 Performance Cylinder Head increases performance, durability, and airflow in your 2011-2016 GM 6.6L Duramax engine. Engineered and manufactured by one of the most legendary names in the performance aftermarket, this cylinder head carries the same quality and performance that you've come to expect from anything branded Edelbrock. Designed as a bolt-on upgrade for a stock, or high performance application. The 79119 Cylinder Head is made to work with all of your factory valve train components along with your injectors, glow plugs, and valve covers. 
The Edelbrock LML Duramax Cylinder Head is heat treated to T7 so it can withstand even the most aggressive diesel engines. This T7 specification heat treating results in a casting that is "overaged". The "artificial aging" step surpasses the T6 industry standard. This extra step reduces residual stress in the casting, and it gives you a more dimensionally accurate finished product. T7 affects the hardness of the casting, along with the tensile strength, and compressive strength. This reduces the possibilities of dropped seats, cracks, or the head lifting in extreme applications. 
The exhaust and intake runners on this LML performance cylinder head have been designed to optimize airflow and swirl. For those engine builders that take it a bit further, this head also has extra deck and port wall material so they can still be custom ported to any racer or engine builders liking. Each cylinder head comes fully loaded and is ready for installation. The emissions legal design is perfect for a street performance build, or an all-out race truck! Sold individually. 
FEATURES:
Sold Individually
Bolt-On Cylinder Head Upgrade
Improved Flow For Increased HP & TQ 
Designed, Cast, Machined & Assembled In The USA!
SPECIFICATIONS:
230cc Int. / 117cc Exh.
CARB EO# D-215-102 
27mm Valve Spring Diameter
A356 Cast Aluminum Construction
33mm Intake Valve / 31mm Exhaust Valve
105lb Valve Spring Seat Pressure & 243lbs @0.500" Valve Lift
CA Residents: CARB E.O. Number on file - LEGAL for use in California.