CST 9" LIFT KIT WITH SHOCKS CSK-C3-9-1
CSTCSK-C3-9-1
Regular price
$3,672.00
Save $-3,672.00
---
CST 9" LIFT KIT WITH SHOCKS CSK-C3-9-1
2001-2010 GM 2500HD 2WD/4WD
DESCRIPTION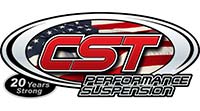 The CST 9" Lift Kit With Shocks CSK-C3-9-1 is the perfect way to add some height to your 2001-2010 GM 2500HD 2WD/4WD Pickup. The CST 9" Lift Kit is the basic / entry level version of the popular 9"-11" lift. This kit includes everything needed from CST for 9" of lift in the front, and 7" of lift in the rear for a level stance and plenty of clearance for 37" tires at an affordable price. 
This kit requires no cutting of the front differential or welding for installation. It maintains the factory track width and will drop down the factory suspension a true nine inches, ensuring that the factory steering and control arm geometry will remain within factory specifications. Like many other CST lifts, the CSS-C3-9-1 kit includes the unique one-piece sub-frame with strut bar supports, supported upper control arm drop mounts, steering drop down w/ heim jointed support links, a CST steering stabilizer and the differential drop. All covered in a high quality gloss black powdercoat finish. 
This version of the 9" kit also includes fabricated rear blocks, add-a-leafs, u-bolts and 4 CST street-series shocks (2 front / 2 rear). All CST Sub-Frame style lift kits include a new center-link with heim supports off the sub-frame to reduce wear and tear and add stability to the idler and pitman arms! 
If you desire more than 9" of lift in the rear, leaf springs willl be required (sold separately). 
FEATURES: 
9" Lift Kit 
Improved Ride & Handling
Minimal CV Angle Changes 
Maintains O.E. Track Width 
Fits Up To 37" Tall Tire (See Notes Below)
No Cutting Or Welding Required For Installation 
Notes - Please Read For Additional Required Components:
This is a 9" lift, if you want a higher lift you will need to order a different kit.
Clears 37" tires without trimming on 8"-10" wide wheels w/ 4"-4.75" of backspacing. 
Other wheel and tire sizes will be up to the installer to determine fitment, installation, and trimming if needed. 
Trucks with 2-piece rear driveshaft may required carrier shim. 
Driveshaft upgrade recommended for frequent highway use in 4WD. 
3500HD Owners: This kit was designed and tested for the 2500HD trucks. It can be used on 3500HD and 3500HD Dually if the purchaser / installer is able to provide custom u-bolts for their application. Due to the many different spring and axle configurations, u-bolts are not included or offered for the 3500HD models. CST DOES NOT  offer u-bolts for these applications. You must be able to source them locally. Custom carrier bearing spacer may be required as well.