CST 6"-8" STAGE 1 LIFT KIT CSK-C3-6-1
CSTCSK-C3-6-1
Regular price
$2,490.00
Save $-2,490.00
---
CST 6"-8" STAGE 1 LIFT KIT CSK-C3-6-1
2001-2010 GM 2500HD 2WD/4WD
DESCRIPTION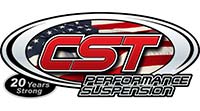 The CST 6"-8" Stage 1 Lift Kit CSK-C3-6-1 is the perfect way to add some height to your 2001-2010 GM 2500HD 2WD/4WD Pickup. This kit is designed around the unique CST one-piece sub-frame design. CST also adds strut bar supports, and reinforced upper control arm drop mounts, and a steering drop down with heim jointed support links. 
The CST System will drop down the factory suspension a true six inches, ensuring that factory steering and 4-wheel drive cv angles will remain within factory specs. This kit does not increase the track width and with the use of CST Shocks over all ride quality will be improved. 2009 and up models are not equipped with the GM Stabilitrak System, installation of this kit will not affect it in any way. 

SUGGESTED WHEEL & TIRE SIZES: 
- 35 Tires on 9-10 wide wheels w/ 4 to 5 inches of back-spacing. (minor trimming required on 10" wide wheels)
- 37 Tires on 8-9 wide wheels w/ 4 to 5 inches of back-spacing and suspension set at 8 of lift w/ minor trimming.
Anything larger, taller or wider is up to your installer!

FEATURES: 
Improved Ride & Handling 
Minimal CV Angle Changes 
Maintains O.E. Track Width 
No Cutting Or Welding Required For Installation
Notes - Please Read For Additional Required Components:
5" maximum backspacing. 
Shock absorbers not included. 
CST Front drive-shaft required for 4wd use at highway speeds. 
Carrier bearing spacer required on trucks with 2 piece driveshaft.
Additional rear lift required for level stance on some trucks when suspension is set at 8".
3500HD Owners: This kit was designed and tested for the 2500HD trucks. It can be used on 3500HD and 3500HD Dually if the purchaser / installer is able to provide custom u-bolts for their application. Due to the many different spring and axle configurations, u-bolts are not included or offered for the 3500HD models. Neither XDP or CST offer u-bolts for these applications. You must be able to source them locally. Custom carrier bearing spacer may be required as well.